People's Cattirian Regime

1984-Present


Flag
Information

Capital

Anwensgrad

Language(s)

English (official)

Religion

Varies

Demonym

Cattirian

Government

Unitary socialist republic

Head of state

Grand Marshal Rita Vrataski (2004-present)

Legislature

People's Assembly

Population

204,800,000

Armed Military Units

8,600,000 Estimated

Anthem

People's Salvation
"Not One Step Back!"
- Official motto of the People's Cattirian Regime.
---
Welcome to the People's Cattirian Regime, A militarily-run socialist republic. We fight to conquer and destroy those who oppose us! Join today!
We also have a vast amount of colonies. We allow a limited amount reedom of speech, religion, and have a relatively controlled/strong economy.
WORLD RANKING: 2nd Largest Super Power
How To Join
Game Center Name?
Roleplay Name?
Desired Rank?
Ships You Will Be Bringing?
Reason For Joining?
Orders of Battle
Army
Artillery Group # - 250 or less artillery pieces
Armored Unit # - 50 or more tanks
Runner Unit # - 100 or more light vehicles
Aerial Unit # - 50 or more aircraft
Regiment # - 50,000 or more types of soldiers
Division # - 150,000 or more types of soldiers
Legion # - 300,000 or more types of soldiers
Fleet formation A - Capital ships leading spearhead assault with lighter ships close by providing AA and anti-missile coverage.
Fleet formation B - Lighter ships in belt formation around the majority of the capital ships, all ships in range to cover at least 2 more ships with additional AA and anti-missile coverage.
Fleet formation C - All ships spread out in a flotilla like formation.
Austro-Wall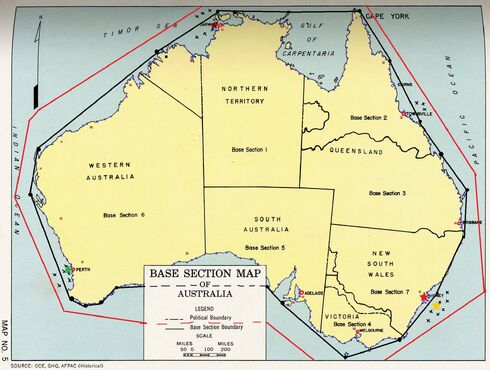 The Austro-Wall is currently the world's largest defensive buildup and stronghold. It is a vast network of defense that consists of multiple lines that span out towards the coast to the boundaries of Australia's territorial waters.
There is a grand total of 10,000+ artillery pieces along the wall, alongside a chain of 3,000 S-300 missiles batteries, accompanied by 4,500 light vehicles. There is a vast array of mines along the coastline to prevent naval traffic and landings.
The coastlines consist of 900+ fortresses with garrisons of 3,000 troops, alongside an endless assortment of trenches, tunnels, checkpoints, airbases, and more.
Map Key
Blue squares = Land defenses (Artillery Groups of 10,000+ pieces on the wall for the purpose of deterring naval attacks and invasions).
Red circles/star =Capital and major cities.
Red line = Maximum range.
Black line = anything within these lines or up to the red line are considered the "killzones".
Brown squares = Airbases along the wall.
Purple squares = Capital ship construction yards.
Colored star = Major Ports
Black X= Submarine Hunting zones.
Super Warships
Aircraft Carriers
Battleships
Battlecruisers
Cruisers
Destroyers, Frigates, Other
Submarines
Equipment
Foreign Relations
Territory:
Allies:
Enemies:
Diplomatic Relations/NAPs: